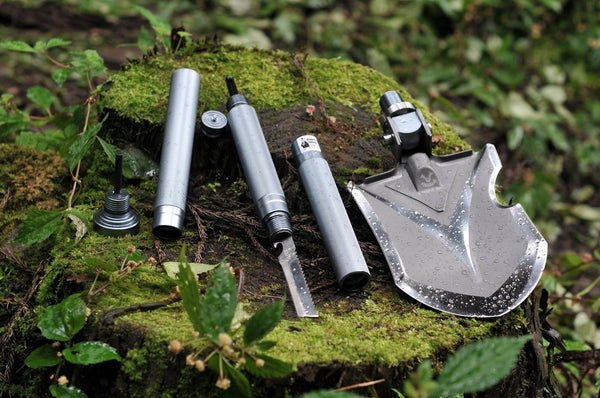 This blog is mainly to introduce the accessories of the zunelotoo shovel to make a detailed introduction and answer the frequent questions of customers.
1. About accessories. Shovel accessories vary from shovel to shovel, although most will have the same accessories, such as magnesium rods, camping knives, whistles, harpoons. The exception is that Crotalus will have a strong flashlight, while WOLF THORN only has a magnesium rod. The specific information is all displayed in detail on each product page.
2. About the number of sections. WOLF THORN has only one section, Crotalus has six, and the other shovels have five.
3. About pouch. The WOLF THORN comes with a shovel cover, and the F-A1 and F-A2 come with a camouflage storage bag. Smilodon and F-A3 come with a green storage bag. And Smilodon comes with our custom aluminum case with shock-resistant foam inside. In addition, we also have EDC pouch for sale, details can be found in the accessories.
4. About packaging. Each shovel is packaged in a corresponding cardboard box. It's packed with shock-resistant foam, we've disassembled the shovels and stored them in our backpacks for better protection, making sure each shovel arrives in your hands brand new, and finally there's the shovel's instruction manual detailing each shovel. sections and how to use them.
We are always doing what we want to do. If you have any questions, please send a message to discuss with us. We are happy to know the needs of customers to improve our products. Thank you for your trust and support.