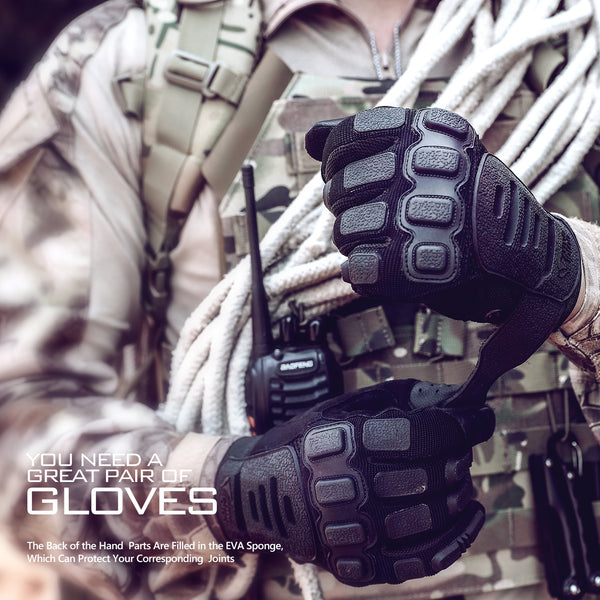 Tactical gloves offer unmatched protection for your hands from weather, impacts and abrasions. Whether you're using them for duty, combat or shooting, tactical gloves are an essential piece of versatile safety gear. They act as an extension of your hands, offering protection, dexterity and tacticality. To find the perfect pair of tactical gloves, there are a few factors to take into consideration.
Tactical Glove Features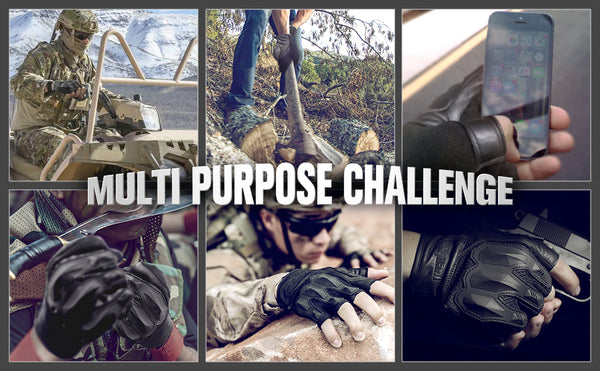 Not all tactical gloves are the same. Some pairs offer an extra level of weather protection, some are designed specifically for combat and others are tailor-made to accommodate weaponry on the shooting range. Here are some common features of tactical gloves and the instances in which they may come in handy.
Fingerless Tactical Gloves




Sometimes called half-finger gloves, fingerless tactical gloves are a prime choice for the gun range. They offer maximum dexterity, allowing users to feel their weapon and ammo while also offering protection around most of the hand. These gloves especially help with ventilation, preventing a buildup of sweat around the fingers and palms. 

Hard Knuckle Tactical Gloves




The ultimate protection for law enforcement officers or military members, hard knuckle tactical gloves are made for hand-to-hand combat. The hard knuckle portion of the glove is typically made with thermoplastic rubber (TPR), a lightweight substance that offers excellent abrasion resistance and weather resistance. 

Insulated Tactical Gloves




By their nature, patrol or deployment often take place in unforgivably harsh weather. While regular tactical gloves offer adequate protection in mild temperatures, insulated tactical gloves are reserved for when it's especially cold out. They keep hands exceptionally warm, but there is a caveat: high insulation results in limited dexterity. 

Touchscreen Compatibility




Taking off your gloves in order to use your phone or other touchscreen devices can waste precious time when seconds are valuable. To remedy this issue, the fingertips of many tactical gloves are designed to be compatible with touchscreens. This makes it easy to use a touchscreen device without the hassle of taking the gloves off. 
Adjustable Wrists
It's important for tactical gloves to fit well. The better they fit, the more natural they'll feel when shooting or using other gear. Adjustable wrist straps provide a personalized fit. The wrist straps are typically held in place by hook and loop velcro for quick and easy adjustability. These wrist straps also allow you to take your gloves off or put them on swiftly.
Palm Padding
First and foremost, the purpose of tactical gloves is to offer protection. Many pairs of tactical gloves feature extra padding in the palms to protect against impacts and sharp objects. Oftentimes this extra padding is made of rubber, which offers increased grip (especially on weapons).
Breathability
Gloves need to breathe well. If they don't, the inside of the gloves will become hot and sweaty, making for irritated hands and fingers. While leather gloves offer great protection and durability, they don't breathe very well. Nylon and polyester gloves, on the other hand, are well ventilated, absorb moisture and help to reduce sweating.
Tactical Glove Materials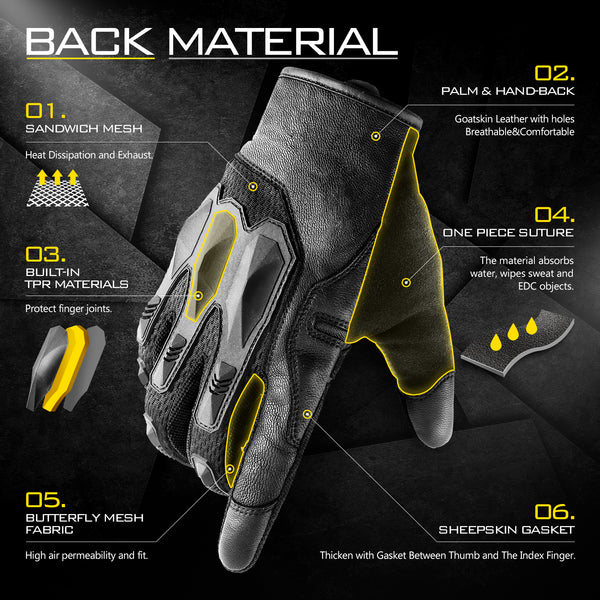 The materials out of which tactical gloves are made are specifically chosen to protect your hands, offer comfort and provide a level of tactility. Some materials offer greater durability, breathability and protection than others. To decide which material is best for you, it is important to consider what kind of activity you're using your gloves for and the material best suited for that activity.
Leather
Leather is by far the most common tactical glove material. Made from cow, sheep or goat skin, leather is flexible, comfortable and water-resistant. It is also used in boots, bags, holsters and more gear for its remarkable durability.
Kevlar
Gloves with Kevlar are usually slash-resistant, which means they protect well against blades and other sharp edges. As a result, kevlar tactical gloves are a great choice for military members and law enforcement officers.
Neoprene
Neoprene is used to make wetsuits. It is therefore an excellent material for keeping water away. Neoprene also remains stable against hot and cold temperatures and acts as a great insulator. Tactical gloves made of neoprene are a great choice to keep hands dry.
Thinsulate
Thinsulate is an insulating material. Thinsulate is measured in grams - the higher the volume, the better the insulation. Thinsulate is a much better insulator than fleece because it's thinner (and, therefore, more dexterous) and just as effective.
Rubber
Often used for padding to protect from high impacts, rubber is a versatile, water-resistant material. In tactical gloves, rubber is usually found on the knuckles. It is also used for palm padding and provides high-friction grip.
Nylon
Nylon is used in boots, packs, belts and much more tactical gear. It is renowned for its toughness and flexibility. In tactical gloves, it is often paired with leather at joints and other flex points to offer dexterity.
Polyester
Polyester is a breathable material. It is not water-resistant, but it absorbs moisture such as sweat to keep hands dry. Unlike leather, polyester doesn't become slippery when it's wet, so it doesn't inhibit the ability to pick up, hold onto and carry objects.
Spandex
Spandex is a stretchy material. Tactical gloves with spandex built in provide a great fit due to their flexibility. They also offer great dexterity, making them a good choice to use at the shooting range.
Hook and Loop Velcro
In tactical gloves, hook and loop velcro is typically found around the wrists. It allows the wearer to adjust the glove's fit and to get in and out the gloves quickly. These qualities make gloves with hook and loop velcro a good option for military members and law enforcement officers.
Nomex
This is a fire-resistant material for use when safety is paramount. Nomex gloves are typically used by welders, foundry workers or members of the military. NAVAIR-approved military gloves usually incorporate Nomex alongside other heavy-duty materials.
Tactical Glove Fit Tips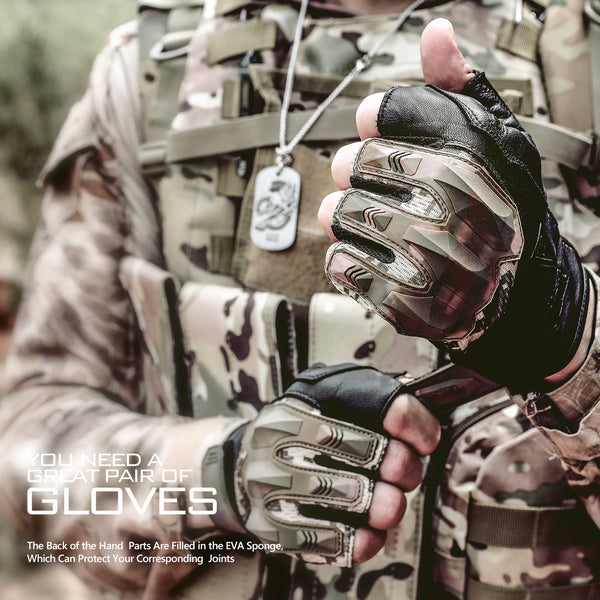 Even if you find the perfect pair of tactical gloves that offer the features and materials you need, if they don't fit right, they won't be very useful. Gloves with excess material or that cut off circulation to your fingers can quickly become irritating. These tips will help to ensure your tactical gloves fit well and don't cause any issues during use.
Prioritize Height over Width
Tactical gloves typically stretch out over time, but if there is excess material at the tips of your fingers, this problem cannot be fixed. Therefore, it's better to defer to a proper height measurement than width measurement when choosing your gloves.
Stretch/Knit Material Fits Better than Leather
While leather provides excellent protection and water resistance, it does not stretch very much. Gloves built with stretchy material like spandex will typically provide a better fit.
Tightness is Preferable to Looseness
Loose gloves make it incredibly difficult to handle your gear. Gloves that move around on your hands won't feel natural and might even slide off while you're using them. With this in mind, it's better to end up with a glove that's too tight than a pair that's too loose.
Movement Shouldn't be Restricted
At the same time though, gloves that are much too tight can result in restricted movement. Finding the balance between tightness and looseness can be tough, but when you do, your hands will feel great inside your gloves.
Handle Your Equipment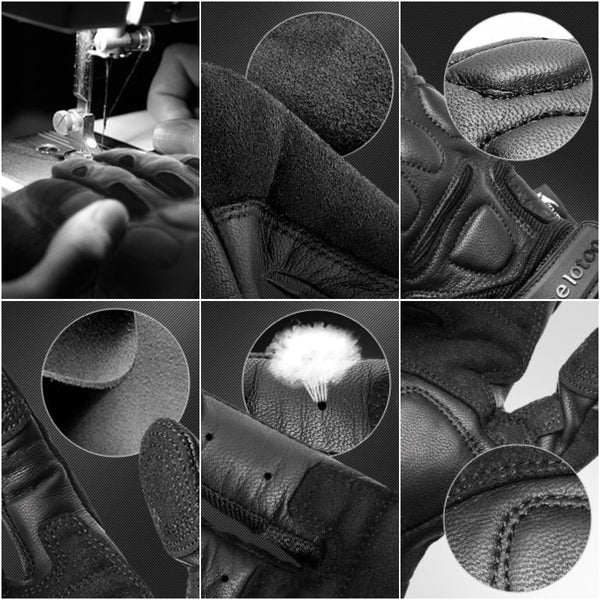 When you first get your gloves, test them out by handling some of your gear. The gloves should feel natural, comfortable and allow you to feel the nuances of your equipment. If they do, you likely selected the correct size.
Your hands are incredibly important - every piece of gear you use requires your hands. That's why it's important to keep them well protected with the right pair of tactical gloves. Your gloves should be dextrous, comfortable and still allow you to feel your gear as you use it. The right pair of tactical gloves provides important protection against a number of hazards that you encounter and will go a long way in keeping you safe.