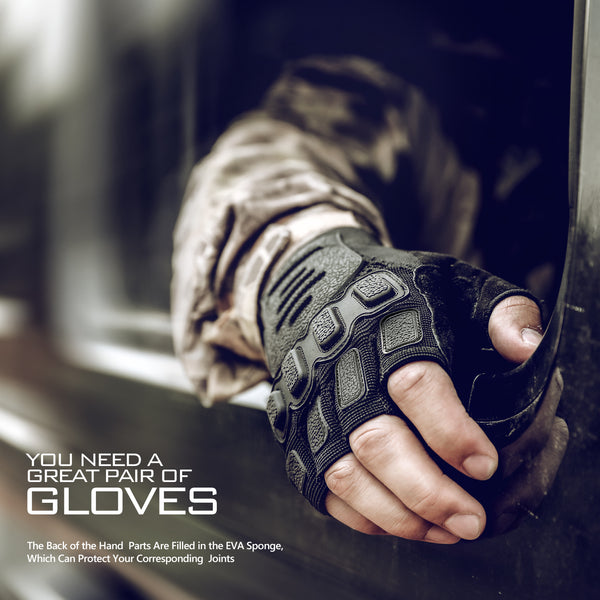 At present, our products on the shelves are ZG-001, ZG-002, ZG-003, they all have full-finger and half-finger versions, and ZG-003 has two colors. They have different performance characteristics, but also have many functions in common. These same functions are the basic requirements of zunelotoo for a glove. On this basis, we will upgrade and transform in some aspects for different usage scenarios.
ZG-001 is our first glove, and most of its area is genuine leather, which makes this glove very soft and comfortable to wear for long periods of time. We added some small holes for breathability, and over the big fingers are inner leather pads to wipe sweat from your forehead during physical labor. Overall, this glove is primarily designed for prolonged physical labor, you can protect your fingers with it, and it's comfortable too. It is also a good choice for riders.
The design of ZG-002 is very classic, and you can tell it is a tactical glove at a glance. The back of the glove is covered with a large area of ​​TPR material, which helps reduce impact and protects your joints from injury while fighting. It also has high abrasion resistance, which can make you unstoppable outdoors. The palm is all non-slip material, which makes it very easy to hold the weapon.
ZG-003 is a highly comprehensive glove. It has genuine leather, TPR, XRD, inner leather pads and more. But the arrangement of the material makes the big and index fingers more flexible, which is very helpful in shooting and cycling. Especially the built-in TPR can reduce the impact of the design and avoid injury.

Through the above detailed instructions, you have already made your own choices. If you have any other questions, feel free to contact us.